With a new lease on life following his second bout with cancer, as well as a new cannabis line, the marijuana icon and activist isn't close to burning out.
Squeaking springs pierce the air in the garage of Tommy Chong's stately home in L.A.'s Pacific Palisades. Dressed in a pair of cuffed blue jeans, a black tee, a dark grey button-up, and black and red high-top Nikes—a youthful skate
style that his late guitarist friend and collaborator Gaye Delorme turned him onto—the white-haired 77-year-old comedian, actor, writer, director, musician, activist, and stoner icon is illustrating how to use a funky exercise contraption he built 20 years ago to train his legs for mogul skiing. Holding his torso erect, he simulates the movement of skiing over quick, bumpy courses by pushing down vigorously on an old skateboard deck suspended from a pipe frame by four metal coils. On the floor next to him lay 40- and 50-lb. dumbbells. Chong, who started lifting weights when he was 16 and played hockey into his late 60s, says he works out every other day.
Were it not for the beige ostomy pouch cover that occasionally peeks out as his shirt rises, Chong would seem the picture of senior health. He's worn the pouch since last October, when he had surgery to remove a rectal tumor and reroute his colon. A vocal Bernie Sanders supporter, he jokingly refers to his new waste disposal accessory as "The Donald," because, like Trump, "it's always full of hot air and bullshit." The anatomical transformation causes depression in some patients, but Chong doesn't appear to be masking any underlying discomfort with his humor. "I don't mind it at all, other than the cosmetic thing," he says. "But my wife doesn't appreciate it. She's like, 'Your bag is showing.' It's a trip. It's almost like a sex change operation, because all of a sudden now, I'm spotting like women do. It's like Tampax. I don't use a toilet, I don't sit down, ever. I kind of miss that. That used to be my meditation period." COMPLEX.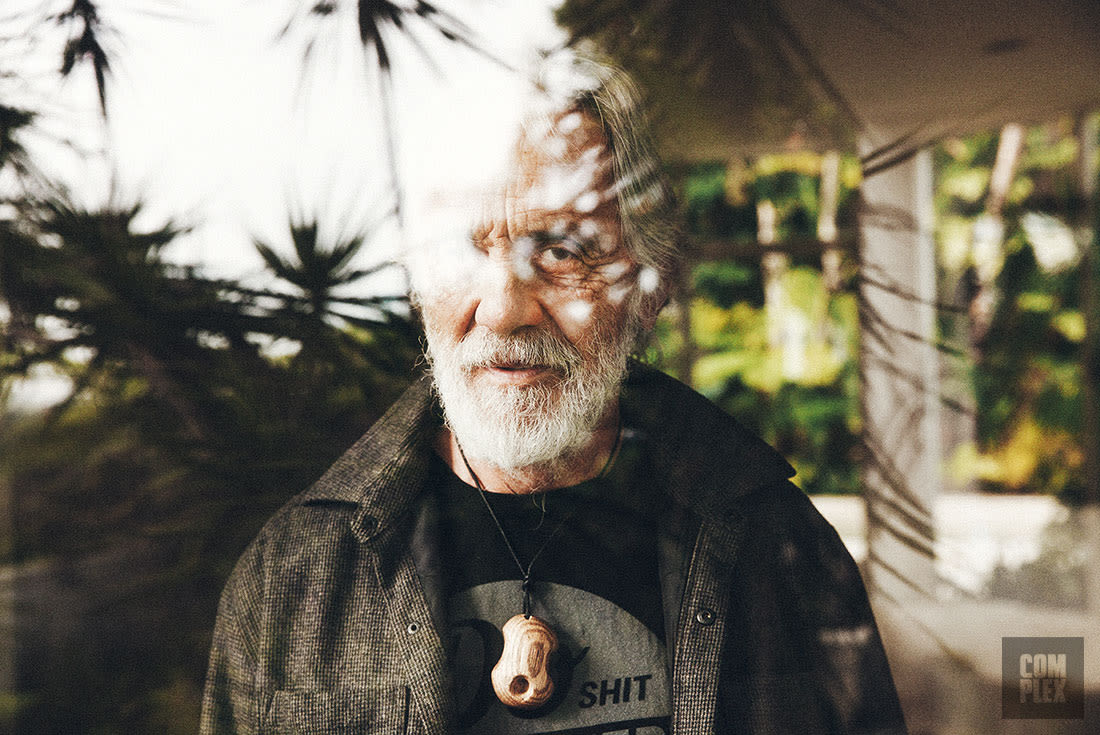 As vibrant and good-humored as Chong is, mortality is on his mind this morning. The world has just learned that David Bowie, another influential countercultural icon, has succumbed to liver cancer. Chong believes our spirits "travel to the next incarnation," but there remains much that he wants to do before departing from his body. Sharing the many smoking apparatuses that he crafts and displays in his garage workspace, from kombucha bottle bongs to elegant hand-carved pipes, in an art exhibit is one such goal. "I'll be the Andy Warhol of bongs," he jokes. He has no timeframe for such a show, just a sense that the clock is ticking. "I got to do it before I die," Chong says. "When I heard about David Bowie it gave me a little kick in the butt to get going. We don't have that much time." COMPLEX.
Whatever else he accomplishes in his life, Thomas B. Kin Chong, born in 1938 in Edmonton, Alberta, Canada, has already made a more profound impact upon society than most people ever will. His classic 1970s and '80s comedy albums and films like Up in Smoke (1978), Cheech and Chong's Next Movie (1980), and Nice Dreams (1981), as one half of the duo Cheech and Chong, with Richard "Cheech" Marin, focused heavily on their enjoyment of marijuana, as well as the criminalization of the plant and related paranoia, particularly for non-white smokers (Chong is half Chinese, Marin is Mexican American). A beloved outlaw entertainer, Chong has used his platform to promote marijuana's medical and recreational values and to fight for its decriminalization. In 2003, he became a marijuana martyr when a government sting focused on drug paraphernalia targeted him as the famous face and financier of his son Paris Chong's glass bong and pipe company. To prevent his son and his wife, comedian and actress Shelby Chong, from being prosecuted, he signed a plea deal and served nine months in federal prison for conspiracy to distribute drug paraphernalia. He was curiously the only first-time offender caught up in "Operation Pipe Dreams" to go to prison (Chong plans to petition President Obama for a pardon).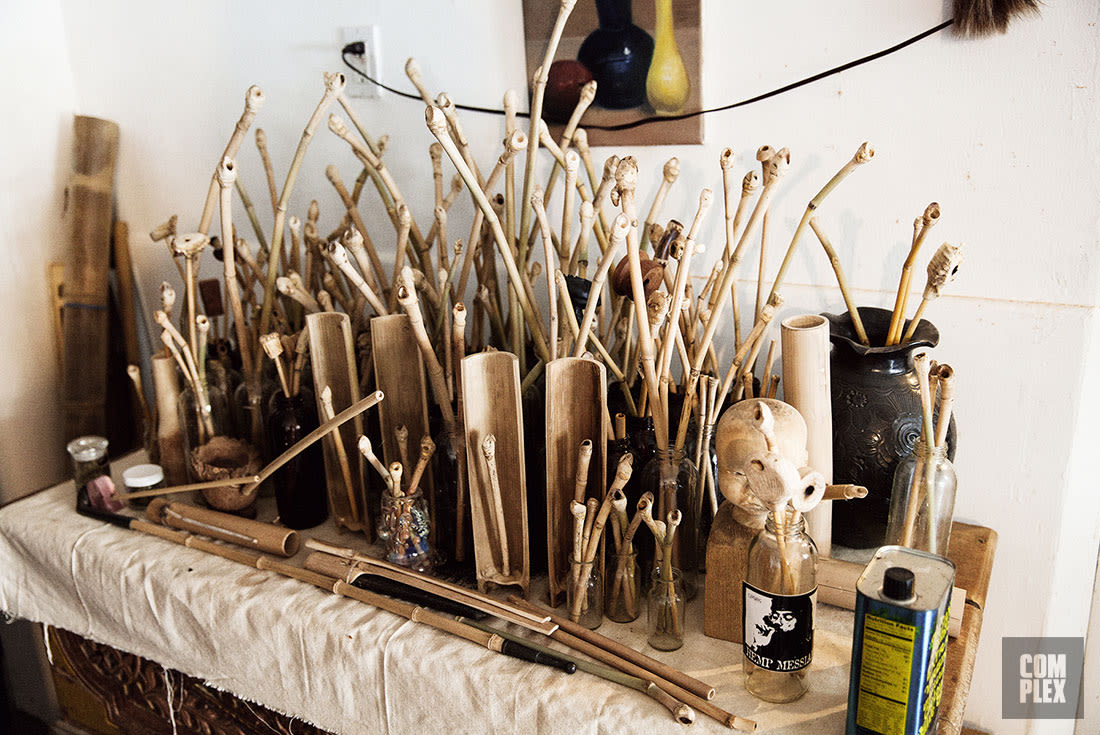 A decade later, with more and more states legalizing medical marijuana, and others like Colorado, Washington, and Alaska legalizing recreational use as well, there's a "Green Rush" to capitalize off of the changing laws, and Chong is staking his rightful claim to the industry. On Feb. 6, at the High Times Cannabis Cup in San Bernardino, Calif., he's officially unveiling Chong's Choice, a cannabis line that he's launching with Paris, who's CEO of their company, Chongson, Inc., Jon-Paul Cowen, the company's president, and a network of distributors, growers, and dispensaries established in each separate state according to local laws. Chong's is not the only celebrity stoner cannabis line—Snoop Dogg has Leafs by Snoop, Willie Nelson has Willie's Reserve, and the Bob Marley estate has Marley Natural, among others—but it will be the first multi-territory brand. Snoop's, for instance, is currently available only in Colorado.The initial rollout features OG Kush, a classic West Coast hybrid strain that Chong and Paris selected—hence the curatorial name—and it includes jars of buds, packs of pre-rolled joints, disposable vape pens and oil cartridges, and THC breath strips to help with your dragon breath. The plan is to expand within the year to include edibles and CBD (Cannabidiol) oil products, which can be used medically to treat various ailments with or without the psychotropic effects, as well as indica and sativa strains in all forms. Because the line represents Chong, and he's used marijuana both recreationally and medically, as a supplement to western radiation and chemotherapy treatments, the brand naturally embraces both. Of course, with some states allowing only medical use, that makes commercial sense. But the pricing, which is still being worked out with dispensaries, reflects Chong's determination to make the medicine affordable for all who need it."We're using the highest quality, top-shelf product, but we're going to price it for everyone," says Guy Logan, who, along with award-winning grower Brian Vecchio, co-founded and helped design the Chong's Choice brand, and who handles California distribution and licensing. COMPLEX.
"IT'S LIKE STEVE JOBS WHEN HE WAS MAKING COMPUTERS. THE THRILL OF KNOWING THAT YOU WERE THE ONE WHO DID IT—THAT'S ALL THE REWARD YOU NEED."
—TOMMY CHONG
"We don't see the need to charge a premium," says Paris. "That's not what Tommy's about. We just want the medicine and the weed to be available.""It's not about the money," says Chong while sitting poolside in his backyard, surrounded by a lush jungle-like greenscape. "It's like Steve Jobs when he was making computers. He was more excited about an iPod's ability to store all that music. Before, we had huge records and CDs and all that crap, and he got it down to one little [device]. The thrill of knowing that you were the one who did it—that's all the reward you need." He lights up when talking about the role that Chong's Choice can play in furthering the dialogue around cannabis and getting the most out of the plant. He sees it creating a network of "doctors, scientists, inventors, people that are exploring" to make sure that people get the proper medical treatments they need. "It's exciting being on the ground floor of this."Advancing and perfecting medical marijuana use is extremely important to Chong, who himself has struggled with the best way to treat himself. Although doctors concluded that his rectal cancer and the prostate cancer that preceded it in 2012 were unrelated, he believes that suppositories of Rick Simpson oil—which he learned about in the 2008 documentary Run From the Cure and used in addition to radiation, chemotherapy, and the prostate-shrinking drug Avodart—led to the tumor."You got to be careful what you put in your body," Chong says. "That's why the smoking is not exactly the best way to do it as a medicine, per se. But I found you get the purest oil possible and you get the lineage, find out where it came from and what it did to other people. Do your homework. Don't just stick shit in your body and not think about it. Whatever you put in your body could be life and death." COMPLEX.
Chong, who is now on low-dose chemotherapy to lessen the chances of recurrence, has tweaked his marijuana treatment. After surgery, with the guidance of Dr. Joseph Breslin, of New Mexico's Light Research Group, he began having a medic inject his hip every other day with a milder oil that was higher in CBD than THC. The medic also massaged him with marijuana oil. "My wife swears that it helped me heal," says Chong, who at one point was so raw and sensitive, especially in his feet as a side effect of chemo, that he couldn't watch someone on TV walking on gravel without it triggering a painful sensation. "She could see the difference on the days I did oil and the days I didn't." He currently receives injections a couple times a week as maintenance. The self-described "one, two toker" uses Indica to help him sleep. "It's, like, the best sleeping pill ever," he says. "Take a couple of hits and the next thing you know it's morning."Beyond contributing to medical marijuana accessibility and research, Chong's Choice, which was trimmed down from its original name, Tommy Chong's Choice Cannabis, may survive the icon as a curated lifestyle brand that extends beyond cannabis, the Tommy Chong version of Newman's Own. "The whole Chong family could be involved in it," says Vecchio. "It's not just about Tommy, but the whole Chong legacy."To help build the brand, Chong is lending his celebrity and his tastes to the effort, permitting his partners, who focus on the business side, to take his ideas and run with them. "My contribution is just being me," says Chong. "My likeness and the fact that I smoke it. That's all. You couldn't ask for a better job." COMPLEX
"US GURUS, WE DON'T
GET STRESSED OUT."
—TOMMY CHONG
"He's smart enough to know that there are things that he doesn't know," says Vecchio. "He's willing to partner up with people that he feels are best in the industry, that he gets along with best, and that he vibes the best with."As the face of Chong's Choice, he's embarking on a massive publicity push to ensure that it takes off. There will be humorous video campaigns as well as serious ones, with the cultivators of the strains he selects, that explain their history and why he chose them. He's hitting various cannabis-related trade shows and events, and doing a dispensary tour where he will do meet-and-greets with fans and consumers. Of course, he'll be campaigning heavily on social media, with a little help from his Millennial publicist, Eli Graham. (That is Chong tweeting from @tommychong, though.) There's also a YouTube show in the works. Despite his age and health concerns, and also because of them, he's putting in as much work as his body allows him to."If [doctors] told me I had to take six more months to recover, I wouldn't complain," says Chong. "But then again, I'm fine being anywhere. There's no stress in what I do. Ever. I just have to do whatever I have to do. I'm a guru. Us gurus, we don't get stressed out."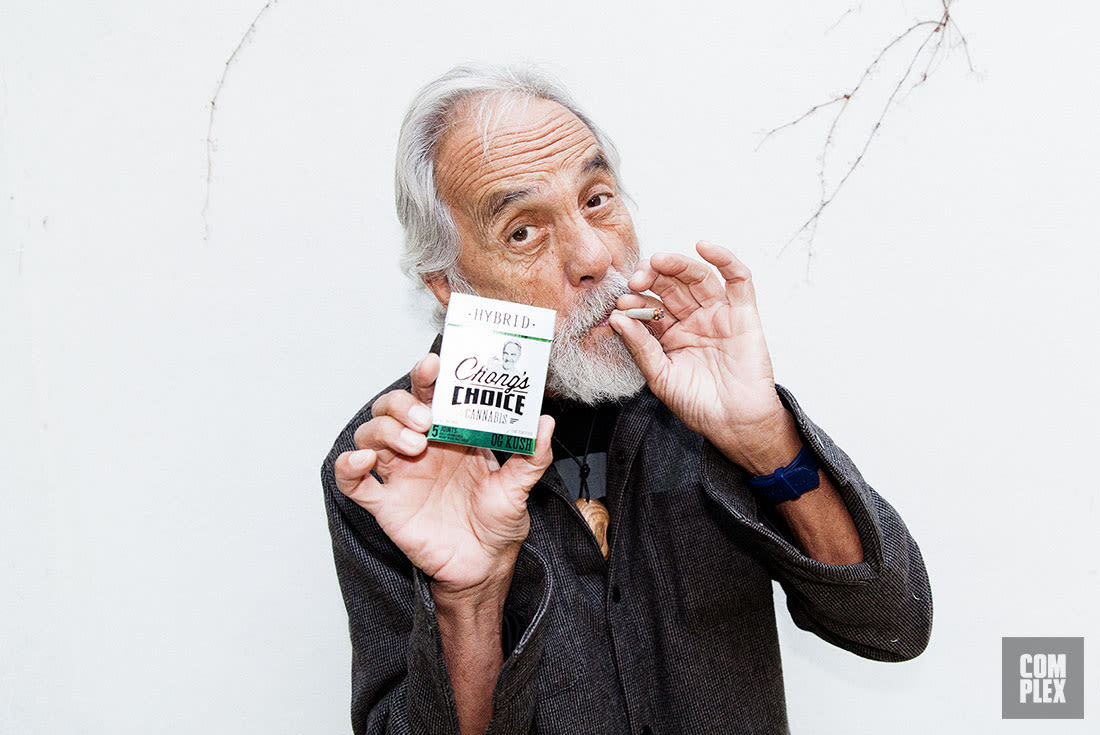 The next day, at a Sylmar, Calif., grow house that Vecchio partners in, there does appear to be no stress (and certainly no stress weed). In the lead-up to the Chong's Choice unveiling, Chong and Vecchio are taking us on a tour of the facility and the growth cycle of some of the pungent, sticky OG Kush the brand is rolling out. The sweet smell is enough to make any smoker smile, but it's not the only reason the promotional push has a euphoric quality for Chong. After all, he lived through the Dark Age of dope, and is finally participating in the Enlightenment."We spent a lifetime hiding and worrying about being busted, the paranoia, and all that," he says. "It's just nice, now, we're all eating at the big table. We aren't at the kids' table anymore. I like that. Right now, as an outlaw comedian, now that we are in Target on T-shirts, it's like we are respectable. Little kids can come up and be like, 'I got your T-shirt.'"While others their age are settled or settling into retirement, Chong and Marin plan to continue touring as Cheech and Chong, as they have been since 2008, alongside Shelby. "That show will continue as long as I am able to do it," assures Chong. They're also in the "infancy stage" of developing a new film. But these days, with less urgent need for a Cheech and Chong to point out the hypocrisy of marijuana laws, there is a safe, golden oldies element to their act. "Now, there's no paranoia," says Chong. "We don't have an antagonist. We don't have a whole society looking down on us because we are brown guys smoking weed. It's the opposite. COMPLEX